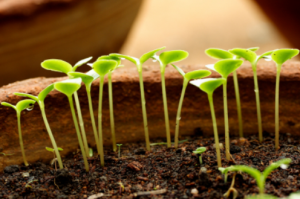 13 Then Jesus said to them, "Don't you understand this parable? How then will you understand any parable?14 The farmer sows the word. Mark 4 :13
This is probably one of the most critical pieces of information that Jesus has given us about how the kingdom of God operates. He as said that the Word is like a seed. Let's think about it for a minute. Let's picture a tomato seed. Now we plant that seed into good soil and a plant grows and produces, let's say, 10 tomatoes. Not only will we have the tomatoes but we will also have hundreds of seeds. If we take the hundreds of seeds and plant them, when we have our next harvest, not only will we have hundreds of tomatoes, but thousands of seeds. Wow! What ever we sow will produce more like itself. The whole tomato plant is in that seed.
So how can we apply this? The word of God is like a seed. Let's say we are feeling sad. We go to the word and find a bunch of readings about joy. We begin to sow the word into our spirit by reading the word to our selves and by doing anything that the Word says to do regarding joy. The more seed we put into our spirit, the more we will harvest of that word. Maybe you need love, faith, hope etc. What ever word you sow will produce a harvest of itself in your life.
The seed begins to grow in our hearts as we study the Word. So keep on sowing thickly.
When I was going through a crisis I felt I needed to grow in my faith. I wrote down about ten readings about faith and I read them to myself several times a day. Sometimes I read them out loud to myself. I had sowed thickly. I had a great faith harvest! My faith increased.
The Word of God is like a seed – the more you sow the more you reap!