Luke 6:38 Give, and it will be given to you. A good measure, pressed down, shaken together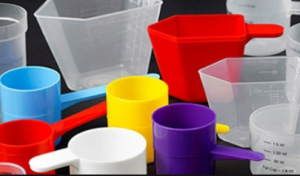 and running over, will be poured into your lap. For with the measure you use, it will be measured to you." Luke 6:38
I was baking a raspberry cobbler to day and as I measured out the flour, I remembered how the Lord said give and it shall be given  to you a good measure, pressed down shaken together  and running over will poured  into your lap. For the measure that you measure with, it will be measured to you.
 I measured out a cup of flour. Then I shook it down, then I pressed it down and I was able to add more flour to the cup.
But what if I used a quarter teaspoon to measure? Then I could expect a quarter teaspoon filled, shaken together and running over into my lap. If I use a gallon to measure with then I could expect a gallon pressed down, shaken together and running over into my lap. That's quite a difference in volume, isn't it?
So the bigger I give the more the Lord gives to me. He uses the measure I use! Really, most of us expect the Lord to be a big giver. When we pray we are not afraid to ask for big things, big solutions to our problems, big blessings for our families. So why shouldn't our God expect us – His children – to be like Him?  Just as we have expectations of Him – so He has of us. He expects His children to be big givers – just like Him.
Give to whom?  To those that have a need that are in our lives, to valid charities, missions – what ever you have the unction to give to. Let the Lord lead you. We can never out give the Lord. Let's use a big measure.
Jesus is Lord!