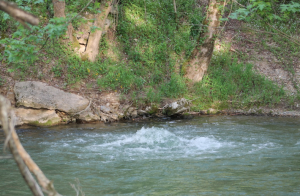 He who believes in Me [who cleaves to and trusts in and relies on Me] as the Scripture has said, From his innermost being shall flow [continuously] springs and rivers of livingwater. John 7:38
  But whoever takes a drink of the water that I will give him shall never, no never, be thirsty any more. But the water that I will give him shall become a spring of water welling up (flowing, bubbling) [continually] within him unto (into, for) eternal life. John 4:14
 My husband and I went canoeing a few years ago. We traveled to the RainbowRiver in Florida. It is a crystal clear spring fed river. We paddled upstream until we came to the end of the river. There bubbling up from the river bed we saw fresh water coming up from the riverbed overflowing to what looks like a very large pond shaped area and then flowing out as a crystal clear river. When we canoed it felt like we were floating in the air because the water was so clear. It made me think of the rivers of living water that flow from our innermost being when we follow Jesus.
 I have noticed how stressed out even seasoned Christians can get. Some go for massages, some over eat, some share their worries with friends, some watch a lot of TV, or read novels. None of these are necessarily bad, but there is a great place to get rid of stress.
It is in the rivers of living water. Not just wet water. Living water. Water that is alive with the Presence of God. Where is it? It is flowing from our innermost beings. We are overflowing with the life of Jesus! Wow!
 I want to float in the living water river! I want to be refreshed in the living water river! The good news is that I can, every day of my life! I can go to the Lord in prayer in my quiet place and soak in the river of His presence. Even if I don't feel it I can still go there. Why? Because it never goes away. The bubbling living water flows eternally from my innermost being. Not just a little stream but rivers plural. Have you ever seen the Mississippi River? – bigger that that!
 I'm going to have a good soak in the rivers of living water.
 Jesus is Lord!