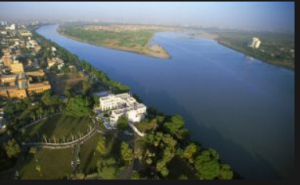 He who believes in Me [who cleaves to and trusts in and relies on Me] as the Scripture has said, From his innermost being shall flow [continuously] springs and rivers of living water. But He was speaking here of the Spirit, Whom those who believed (trusted, had faith) in Him were afterward to receive. For the [Holy] Spirit had not yet been given, because Jesus was not yet glorified (raised to honor). John 7:38-39
I went to prayer night at church last evening. There were about ten of us there.  I have been studying about the rivers of living water that Jesus promised would flow from the innermost being of those who believe in Him. But last night I saw those rivers in action!
 As we prayed for each other for healing, some sharing a word; someone having a reading, I felt the Holy Spirit come like a soft, sweet cloud in our midst. He ministered to all of us.
Later, as I was driving home and thinking about the wonderful experience of being in His Holy Presence the Lord reminded me of the rivers he had promised. We had been in the Holy Spirit Rivers flowing from each one of us. That river flowing from me – flowed to the other people there. And the rivers flowing from them refreshed and ministered to me.  Converging Rivers of Living Water!
 Jesus is Lord!