"The Lord's portion is His people". Deut: 32:9.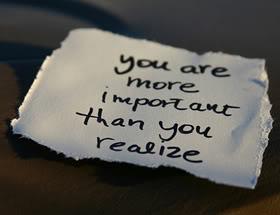 A dear friend of mine in the Lord told me a few days ago that although she used to be a proud person,she now realized that she wasn't important.  I was shocked; because the truth of the matter is that we are important to the Lord. More important then we realize.
The Lord has chosen us to His special portion. We are His share of things.
"The Lord's portion is His people". Deut: 32:9.
Ephesians 1: 4 says: "for He chose us in Him before the creation of the world to be holy and blameless in His sight. In love he predestined us for adoption to sonship through Jesus Christ, in accordance with his pleasure and will – to the praise of his glorious grace which he has freely given us in the one he loves.
In Ephesians 1:11 it says "In him we were also chosen having been predestined according to the plan of him who works out everything in conformity with the purpose of his will, in order that we, who were the first to put our hope in Christ, might be for the praise of his glory. And you were also included in Christ when you heard the message of truth, the gospel of your salvation,. When you believed you were marked with a seal the promised Holy Spirit, who is a deposit guaranteeing our inheritance until the redemption of those who are God's possession – to the praise of his glory".
So how does this apply to us? The Lord knew you before the foundation of the earth. He thought about you. Your gifts, strengths and what your life would be like. He chose you. Think about it. How long ago was that? Several billion years ago He had you in His mind. He is full of love for you. You are no mistake. Your being here was planned before the earth was formed! People first, then the earth. Wow. Maybe you are feeling "unworthy", but you are dearly precious to the Lord.
Jesus said" "are not two sparrows sold for a penny? Yet not one of them will fall to the ground outside your father's care. And even the very hairs of your head are all numbered.  So don't be afraid, you are worth more than many sparrows." Matt.10:29.
The Lord loves you and has a plan for your life. You and I are part of His portion.
Jeremiah 29:11 – 13 for I know the thoughts and plans that I have for you, says the Lord, thoughts and plans for welfare and peace and not for evil, to give you hope in your final outcome. Then you will call upon me, and you will come and pray to me, and I will hear and heed you. Then you will seek me in, inquire for and require of me and find me when you search for me with all your heart.
Jesus is Lord!