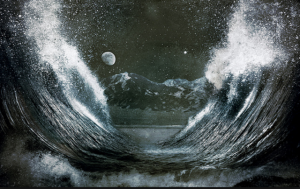 Fear not, for I have redeemed you [ransomed you by paying a price instead of leaving you captives]; I have called you by your name; you are Mine.
2 When you pass through the waters, I will be with you, and through the rivers, they will not overwhelm you. When you walk through the fire, you will not be burned or scorched, nor will the flame kindle upon you.  For I am the Lord your God, the Holy One of Israel, your Savior; Isaiah 43:1-3
I have been through a fire. Our house caught fire while I was out with my husband one evening. Our three children were asleep in their beds and the baby sitter was downstairs practicing guitar. Thanks to a miracle from the Lord ( you can read more about it in my book WALKING WITH JESUS)  all the children and the sitter were saved. Later I remembered this scripture- "when you walk through the fire you will not be burned." Now it had a personal meaning for me. The Lord was with us through it all. He kept us all safe and restored our home.
We all go through turbulent times at different times in our lives but the most wonderful thing is that the Lord is with us through it all. No matter how bad it is HE is with us and He will get us through it. Meshach, Shadrach and Abednego went thorough a fire but did not burn, the Israelites went through the sea and the Jordan River on dry land. We go through our own fire and water but the Lord is with us. He promises us no drowning, no burning. He keeps us in His loving care.
Jesus is Lord!