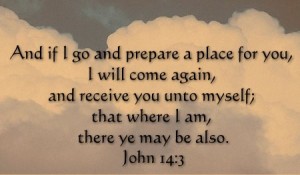 14 "Don't let your hearts be troubled. Trust in God, and trust also in me.2 There is more than enough room in my Father's home.[a] If this were not so, would I have told you that I am going to prepare a place for you?[b]3 When everything is ready, I will come and get you, so that you will always be with me where I am. 4 And you know the way to where I am going. John 14:1-4.
My husband and I were getting our rental condo ready for the family members on their way for a visit. We carefully planned for each person's comfort and enjoyment. We had painted, bought new furniture and appliances and had put up artwork that we thought would be a blessing to them. We had a wonderful time preparing for our coming loved ones. As I was working, I remembered that the Lord is doing this for each and every one of us that trust in Him.
He is truly preparing a place for us. He knows our tastes and likes. He knows what colors we prefer. He knows what makes us happy. He is anticipating our arrival with joy and happiness. He is looking forward to having us there. He is personally going to come and get us so we can always be there where He is.
As the day of my family's arrival draws near I am filled with happy anticipation. So is He.
Jesus is Lord!